Welcome To Our Online Home
Longhorn Ranch Properties is located in northwest Texas. Our home office is in Graham, Texas, the county seat, which is known by many as one of the "gateway cities to the West." Our full service real estate firm enjoys getting to know the landowners in this part of Texas. We devote our efforts to becoming familiar with the nuances of the many different areas of this part of Texas, diverse in topography as well as value for rural land. When we put buyers and sellers together our firm wants to make sure each party is comfortable with and understands where the market value for that property currently stands. That approach allows Longhorn Ranch Properties to make recommendations to clients that everyone will be comfortable with.
Listing Your Land With Longhorn Ranch Properties
Listing your property with a real estate firm is a big decision. There are many variables that factor into which firm you choose. Make sure you make the right decision for your needs and get your property sold in a timely and stress free transaction. And never forget, it's all about….MARKETING!!
At Longhorn Ranch Properties we aggressively use technology to effectively market your property. This includes use of the internet and subscription websites that specialize in your property type. It also includes aerial videography, pricing comparisons and social media, just to name a few.
Longhorn Ranch Properties will be with you at each step from listing your property through the closing table.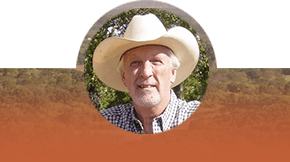 LARRY HOLLINGSWORTH Broker/Owner